Theatre: La Ronde
La Ronde is a new adaptation of the play written by Arthur Schnitzler in 1897, in Vienna. Max Gill is bringing the text to the 21st century by getting rid of genders, sexual orientations and creating a whole new challenge for the actors.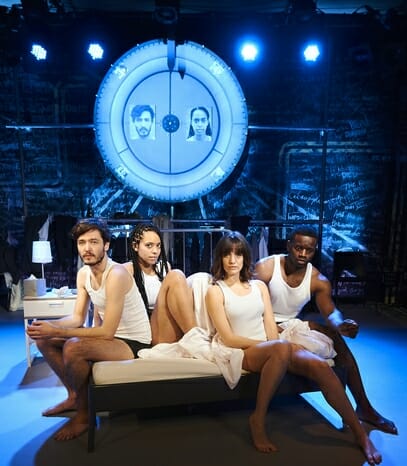 Four actors, ten scenes and a wheel that decides, in between each scene, what actor will play what role; that is the general idea behind La Ronde. The already captivating storyline gets even more exciting as no one, not even the actors, know who will play who. That makes roughly 3000 different possibilities for just one play.
The Bunker offers yet another powerful dimension to the play, as the audience is sat right by the stage, all around it, like a small intimate arena. The overall story depicts couples before or after a sexual encounters: desire building, overpowering lust, bored marriage, exciting one-offs and accidental sex. It is funny at times, saddening at others but it holds up and anyone can relate to those characters. The scenery, the lightning, the overall direction is fantastic: everything is so well timed that it makes you bite your nails in anticipation.
The ten scenes slowly come together and the whole story appears clearer as you go along.
The four actors (Alex Vlahos, Amanda Wilkin, Lauren Samuels and Leemore Marrett Jr) are absolutely brilliant: they're able to jump in at any given moment and deliver the lines that are theirs for the night. On this press night, the wheel was not too kind to Leemore Marrett Jr, as he was only part of the very last two scenes. It added some extra nail-biting stress every time the wheel was spinning.
La Ronde is a one of a kind experience, set in a beautiful theatre and carried by four talented actors. It feels so right that all characters are gender-neutral as, in 2017 that does not matter anymore: any of us could experiment those frivolous adventures. The story is deeper than what there is to see and it definitely has a haunting factor. Go and see La Ronde, get carried away and wonder what will your story be.
Trailer: https://www.youtube.com/watch?v=pjB6xRVjE1w
Previously published on www.theatre-news.com on the 13th of February 2017.
You May Also Like
January 23, 2017
March 22, 2017